Subscribers Only
Access Online JSPES

The online subscription is available to institutions at a cost of $158.00 per year. However, institutional subscribers who pay $138.00 for the Printed version ($154.00 for non-US destinations) may subscribe to the electronic version for an additional $68.00 only.

Paid subscribers to the electronic version may click on the link below after registering their IP address by e-mail with socecon@aol.com. For further details and to subscribe, see our Subscription page.
Click on a link below. . .

JSPES, Vol. 35, No. 2 (Summer 2010)

Table of Contents

Gawdat Bahgat

China's Energy Security: Challenges and Opportunities

James H. Hughes

China's Place in Today's World

Stephen R. Bowers, Zaur Borov and Kyle M. O'Neill

Weapons Traffic in Russia's Caucasus

Donald A. Collins

Heading for a World Apocalypse?

BOOK REVIEWS

Freefall: America, Free Markets, and the Sinking of the World Economy • A Country of Vast Designs: James K. Polk, the Mexican War, and the Conquest of the American Continent • The Open-Borders Network: How a Web of Ethnic Activists, Journalists, Corporations, Politicians, Lawyers, and Clergy Undermine U.S. Border Security and National Sovereignty • Discover Your Inner Economist: Use Incentives to Fall in Love, Survive Your Next Meeting, and Motivate Your Dentist • The Road to Financial Ruin: Warnings, Consequences, Reforms • The Myth of the Rational Market: A History of Risk, Reward, and Delusion on Wall Street
Submission of Manuscripts

JSPES, Vol. 35, No. 1 (Spring 2010)

Table of Contents
Cohen,

M.S.

and Beranek, L.L.
Reindustrialization: From Shoes to Ships to Sealing Wax

Bahgat, Gawdat

Egyptian-Iranian Relations: Retrospect and Prospect
Bolton,

K.R.

Rivalry over Water Resources as a Potential Cause of Conflict in Asia

Haddad, Simon

The Political Consequences of Electoral Laws in Fragmented Societies: Lebanon's 2009 Elections

Hasnat, Baban

American Foreign Aid Before and During the War on Terror: An Empirical Examination

Murphey, Dwight D.

BOOK REVIEW ARTICLE: Responses to the Great Panic – and Some Questions they Raise

BOOK REVIEWS

Reflections on the Revolution in Europe: Immigration, Islam, and the West • The Revolution: A Manifesto • Girls Like You: Four Young Girls, Six Brothers and a Cultural Timebomb • Saving Capitalism: Keeping America Strong • 13 Things that Don't Make Sense: The Most Baffling Scientific Mysteries of Our Time
Submission of Manuscripts

JSPES, Vol. 34, No. 3 (Fall 2009)



Table of Contents
Complete Issue

Tarzi, Shah M.

China and Foreign Direct Investment: Market-Oriented Policies and FDI Inflows

Cafaro, Philip and Staples, Winthrop

The Environmental Argument for Reducing Immigration to the United States

Hasan, Mostafa M., Hassan, M. Kabir & Uddin, Mohammad R.

Local Government Investment Outreach and Sustainability of Microfinance Institutions: A Case Study of BURO, Bangladesh

Murphey, Dwight D.

A "Classical Liberal" Rethinks the Market System: Invitation to an Intellectual Odyssey

BOOK REVIEW ARTICLE

The Future Will Marvel: The Follies Leading to the "Great Credit Crunch of 2007-2009"

Book Reviews

Prisoner of the State: The Secret Journal of Premier Zhao Ziyang • The Limits of Democratization: Climate, Intelligence, and Resource Distribution • Common Wealth: Economics for a Crowded Planet • The Case Against Immigration: Both Legal and Illegal • The Transparent Cabal: The Neoconservative Agenda, War in the Middle East, and the National Interest of Israel • Modern Armenia: People, Nation, State • Understanding Human History: An Analysis Including the Effects of Geography and Differential Evolution • We Who Dared to Say No to War: American Antiwar Writing from 1812 to Now..............................................................................

JSPES, Vol. 34, No. 1 (Spring 2009)


Table of Contents
Complete Issue

Hughes, James H.

China Modernizes the World's Largest Military

Mataré, Herbert F.

Energy Independence for the USA

Raiklin, Ernest

The Making of Post-Soviet Ukraine

Weiss, Volkmar

National IQ Means Transformed from Programme for International Student Assessment (PISA) Scores, and their Underlying Gene Frequencies

Murphey, Dwight D.

BOOK REVIEW ARTICLE: Revisiting the "Good War's" Aftermath: Emerging Truth in an Ocean of Myth

Book Reviews

The Global Bell Curve: Race, IQ, and Inequality Worldwide • Sex and War: How Biology Explains Warfare and Terrorism and Offers a Path to a Safer World • Political Correctness and the Theoretical Struggle: From Lenin and Mao to Marcuse and Foucault • Bondage of the Mind: How Old Testament Fundamentalism Shackles the Mind and Enslaves the Spirit • A History of Political Trials From Charles I to Saddam Hussein • Reclaiming the American Right: The Lost Legacy of the Conservative Movement


JSPES, Vol. 33, No. 4 (Winter 2008)

Table of Contents
Complete Issue (8MB)

Rafaat, Aram

The Kurds in Post-Invasion Iraq: The Myth of Rebuilding the Iraqi State

Muhumuza, William

Between Rhetoric and Political Conviction: The High Cost of Ignoring The Dynamics of Decentralization in Uganda and Africa

McLaughlin, Vance, and Mackey, Wade C.

Demographics of the Upward-Trending Murder Rate in Buffalo, New York: A Harbinger of Societal Stress

Anderson, William L.

The Hayekian Blogosphere: Was the Duke Lacrosse Case also a Case of the "Spontaneous Order"?

Murphey, Dwight D.

BOOK REVIEW ARTICLE
Understanding the West's Self-Immolating Follies: Buchanan and the World Wars

Murphey, Dwight D.

BOOK REVIEW ARTICLE
9/11 Theories: A Triple Book Review
Book Reviews:
The Global Bell Curve • The Strange Death of Moral Britain • Dangerous Business: The Risks of Globalization For America •
Greenspan's Bubbles: The Age of Ignorance at the Federal Reserve
Submission of Manuscripts
Index to Volume 33


JSPES, Vol. 33, No. 3 (Fall 2008)

Table of Contents

Bahgat, Gawdat

Gas OPEC? Rhetoric versus Reality

Scott, Ralph

Educational Quagmire: The High Cost of Ignoring Biophysical and Ecological Factors

Blondell, Jerome

Adverse Impacts of Massive and Illegal Immigration in the United States: A Review of the Complexities

Murphey, Dwight D.

BOOK REVIEW ARTICLE Urging Uplift for American Blacks: Two Recent Books – a Critique
Johnson, Roberta Ann, and

Werlin, Herbert H.

CONTINUING THE DISCUSSION ON CORRUPTION AND DEMOCRACY: Disentangling Corruption and Democracy, and Rethinking Corruption, Democracy, and Political Power: Finding a Linkage

Book Reviews:

Where Have All the Leaders Gone? • A Time to Fight: Reclaiming a Fair and Just America • Bad Money: Reckless Finance, Failed Politics, and The Global Crisis of American Capitalism
Submission of Manuscripts


JSPES, Vol. 33, No. 1 (Spring 2008)

Table of Contents

Meisenberg, Gerhard

How Does Racial Diversity Raise Income Inequality?

Rotherham, Lee

Behind the Latest European Court of Auditors Report

Raiklin, Ernest

Numbering Belarus: How It Compares with Russia

Ghazanfar, S.M. and Sevcik, Candelaria L.

Inflation Targeting Policies in Less-Developed Countries:
Some Evidence and Potential

Bahgat, Gawdat

Energy Security: What Does It Mean? And How Can We Achieve It?

Lynn, Richard and Mikk, Jaan

Science: Sex Differences in Attainment

Book Reviews:

Supercapitalism: The Transformation of Business, Democracy, and Everyday Life • There is a God: How the World's Most Notorious Atheist Changed His Mind • Blacklisted by History: The Untold Story of Senator Joe McCarthy • Multiculturalism without Culture


JSPES, Vol. 32, No. 3 (Fall 2007)

Rafaat, Aram
An Independent Kurdish State: Achievable or Merely a Kurdish Dream?
Bahgat, Gawdat
Energy and the Arab-Israeli Conflict
Murphey, Dwight D.
George Tenet's Memoir: Curious and Provocative
Weiss, Volkmar
The Population Cycle Drives Human History – from a Eugenic Phase into a Dysgenic Phase and Eventual Collapse
Werlin, Herbert H.
Corruption and Democracy: Is Lord Acton Right?
Book Reviews
Shots Fired: Sam Francis on America's Culture War • Will the Real Millard Fillmore Please Stand Up? • America Challenged: Issues Foreign and Domestic • The God Delusion • What is the What
Submission of Manuscripts


JSPES, Vol. 32, No. 2 (Summer 2007)
Anegbode, John E., and Igbafen, Monday Lewis
Ethnic Militia Violence in Nigeria: The Case of the O'odua Peoples' Congress (OPC)
Hughes, James H.
Chinese Ballistic Missile Developments
Bahgat, Gawdat
Terrorism in the Middle East
Barbour, Patrick
Needed: Structural Reforms for Governing the United Kingdom
Oesterdiekhoff, Georg, and Rindermann, Heiner
The Spread of AIDS in Developing Countries: A Psycho-Cultural Approach
Mengistu, and Adams, Samuel
Foreign Direct Investment, Governance and Economic Development in Developing Countries
Book Reviews
No Retreat, No Surrender: One American's Fight • The Che Guevara Myth and the Future of Liberty • The Challenge of Liberty: Classical Liberalism Today • Squandered Victory: The American Occupation and the Bungled Effort to Bring Democracy to Iraq • China's Global Activism: Strategy, Drivers, and Tools


JSPES, Vol. 32, No. 1 (Spring 2007)
Bahgat, Gawdat;
Iran, Israel and the United States: The Nuclear Paradox
Nyahoho, Emmanuel
On the Usefulness of the International Monetary Fund's Credit Facilities
Trivoli, George W.
Policy Failures of the Federal Reserve System and a Proposed Competitive Money System
Murphey, Dwight D.
BOOK REVIEW ARTICLE:
The Maoist Legacy of Modern China
Collins, Donald A.
The Great Population Debate: An Opinion Paper
Mataré, Herbert F.
BOOK REVIEW ARTICLE:
Over-Population and Disaster
Book Reviews
Karl Mannheim's Sociology as Political Education; The Che Guevara Myth and the Future of Liberty; War on the Middle Class; Blame Welfare, Ignore Poverty and Inequality; Politics in the Laboratory: The Constitution of Human Genomics


JSPES, Vol. 31, No. 4 (Winter 2006 )
Bowers, Stephen R.; Musayev, Bakhodir;
Samson, Steven Alan ;
The Islamic Threat to Eastern Central Asia
Bahgat, Gawdat
Missile Proliferation in the Middle East
Toole, James; Henning, April
Does International Moral Suasion Influence Democratic Development? The Nobel Peace Prize and Political Reform in Burma and East Timor
Murphey, Dwight D.
BOOK REVIEW ARTICLE The Changing Face of Americahey
Dutton, Edward Croft
Political Correctness, Evangelicalism and Student Rebellion aBritish Universities
Book Reviews
Shouldering Risks: The Culture of Control in the Nuclear Power Industry In Mortal Danger: The Battle for America's Border and Security In the Line of Fire: A Memoir The Shia Revival: How Conflicts Within Islam Will Shape the Future Living Through the Soviet System The Marketing of Rebellion


JSPES, Vol. 31, No. 2 (Summer 2006)

Editorial Page
Table of Contents
Guide, Anne-Marie, and Pattillo, Catherine
Financial Sector Reform in Sub-Saharan Africa
Coyne, Christopher J.
Reconstructing Weak and Failed States
Westley, Christopher, and Schmidt, Bill H.
Efficiency Wages: A Critical Assessment
Hall, Joshua
The Dilemma of School Finance Reform
Irwing, Paul, and Lynn , Richard
The Relation Between Childhood IQ and Income in Middle Age
Rallens, Tyson, and Ghazanfar, S. M.
BOOK REVIEW ARTICLE: Microfinance: Recent Experience, Future Possibilities
Murphey, Dwight D.
BOOK REVIEW ARTICLE: Seeing Africa Clearly
Wegierski, Mark
BOOK REVIEW ARTICLE: Samuel P. Huntington, Immigration, and the United States
Book Reviews
The Market for Force: Privatizing Security • Modern Mongolia: From Khans to Commissars to Capitalists • Democracy Without Competition in Japan: Opposition Failure in a One-Party Dominant State


JSPES, Vol. 31, No. 1 (Spring 2006 )

Fox, E., and Orman, S.
Ballistic Missile Defense: A Review of Development Problems
Haznat, Baban
United States Trade Relations with Muslim Countries
Cairns, John, Jr.
Restoring Damaged Aquatic Ecosystems

Anderson, William L., and Jackson, Candice E.
Criminalization as Policy: Using Federal Criminal Law as a Regulatory Device

JSPES, Vol. 30, No. 4 (Winter 2005)

Gawdat Bahgat:
Nuclear Proliferation and the Middle East
John C. Zimmerman
Roots of Conflict: The Islamist Critique of Western Values
Bishwambher Pyakuryal and Kishor Uprety:
Economic & Legal Impact of Conflict on States & People in South Asia with Specific Reference to Nepal
Shah Tarzi
Foreign Direct Investment Flows into Developing Countries: Impact of Location and Government Policy
Book Reviews
Index to Volume Thirty
Access to On-Line version of Journal
Institutions subscribing to printed version. Combined Print and Electronic subscriptions to Journal of Social, Political, and Economic Studies are available to institutional subscribers. Such subscribers will receive the printed and bound journal and full access to the Electronic Version. Those seeking combined subscriptions should enter their subscription order on the Subscription page, then send an email request to socecon@aol.com, listing their IP address for authentication.
Libraries may put the contents of the journal on their own private computer network for access by their clients.
Where subscribers obtain their copies of the journals through a forwarding agent's address in the U.S. we will still need to receive an application direct from the subscribing library by email in order to provide free access to the on-line service.
Institutions not subscribing to printed version. The Electronic Version only is available to institutions for only $86.00 per year. Institutional subscribers seeking access to the Electronic Version only should enter their subscription order on the Subscription page, then send an email request to socecon@aol.com, listing their IP address.
---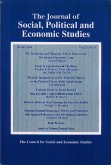 ---

Subscribe
Today
---
Also see

Mankind Quarterly